A midsummer knight's kiss by Elisabeth Hobbes
A midsummer knight's kiss by Elisabeth Hobbes is the newest book by Hobbes and it is the third in the Danby Brothers series. It can be read as a stand-alone novel though. The first book in the series is about Hal, a blacksmith, hence the anvil in the picture of the book. I've used the same picture for all three books. The second book of the series was Redeeming the Rogue Knight, the story of Roger and Lucy, parents to Robbie, the hero in this third novel. The other two couples and their children appear in this book too, but is not too much and it doesn't distract from the story, as is sometimes happen in series.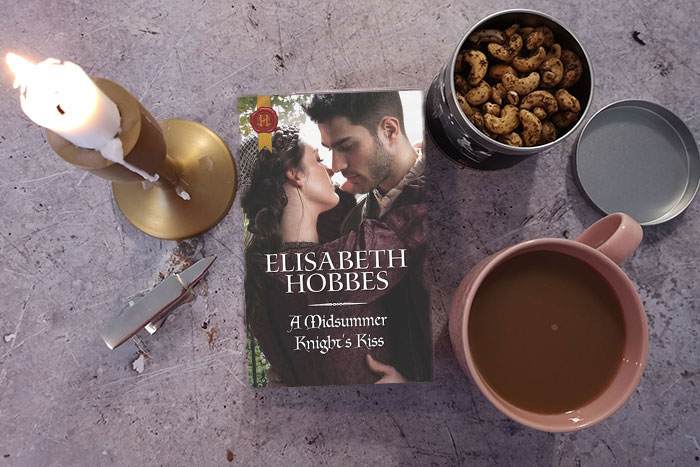 I liked the story. I didn't find the book as good as the first two in the series, but still worths 5 stars. It is an easy to read, lovely book for the holidays or the Christmas period. One of the things I liked best about the book is that she didn't feel the need to talk about the amazing stories she wrote before, as other authors do. This was all about the story of the cousins, falling in love, with a twist which makes their story suitable for our contemporary ideas.
A midsummer knight's kiss by Elisabeth Hobbes
Details about the picture: The small anvil is from Gretna Green. I've used the same picture for the first book in the series and followed with the second, so it was only appropriate to have the same picture for the third book too.
My rating: 5/5 Stars.
Would I recommend it: Yes
Published by: Mills & Boon
Year it was published: 2019
Format: Paperback
Genre(s): Fiction
Pages: 361
About the author: Elisabeth grew up in York, where she developed her love for history and the past. She read History and Art History at university, before becoming a teacher. She now lives in Cheshire with her family.
In 2013 Elisabeth entered her first novel into a Harlequin contest and finished in third place. Thus, she was offered a two book contract.
Books by her: A Wager for the Widow, Falling for Her Captor, stand-alone novels.
The Danby Brothers series: The Blacksmith's Wife; Redeeming the Rogue Knight; A midsummer knight's kiss.
The Conquest of England series: The Saxon Outlaw's Revenge, Beguiled by the Forbidden Knight
Website & Social Media Links: elisabethhobbes
---
---