Regency Novels by Mary Balogh
Mary Balogh is my favourite regency novel author. So, I'm sharing today a round-up of the regency novels by Mary Balogh I've enjoyed last year and this year as well. Besides these books, I've also read the Bedwyn Saga, that boast 8 books. I've loved all of those, especially the last one, Slightly Dangerous, in which she presents the story of Duke Wulfric Bedwyn.
Mary Balogh (née Jenkins) was born in Wales. She moved to Canada after University, where she was an English teacher. She married Robert, a Canadian, and they had three children. Besides writing she loves reading, music, knitting, watching tennis and curling.
Mary started writing as a hobby, in the evenings. Her first book was published in 1985. When she retired from teaching, after 20 years, she pursued her dream to write. In total, she has written more than 70 novels and almost 30 novellas. Her work was appreciated, winning awards like Bestselling Historical of the Year from the Borders Group, Waldenbooks, Romantic Times Lifetime Achievement Award.
Regency Novels by Mary Balogh – Westcott Series
Humphrey Westcott dies, leaving behind a fortune and a title that will change the lives of everyone in his family. He was bigamous and that meant that his son was not his heir, his daughter was not legitimate, and that a daughter that nobody knew about inherited the properties while a cousin inherited the title. It's quite an unique plot and in this series she shares stories of the people that were affected by these changes.

Someone to Love is the first novel. It is the story of his only legitimate daughter, Anna Snow, and Avery Archer, Duke of Netherby. It is a lovely and heart-warming book. I liked Avery a lot, he is quite different from a usual romantic hero, but he is likeable and complex.
My rating: 5/5 Stars
Year it was published: 2016
Pages: 392

Someone to Hold is the story of Camille, Anna's half-sister, now illegitimate, and Joel Cunningham, an art teacher in Bath, who is a close friend of Anna. Camille evolves in the book and that makes the book really good.
My rating: 5/5 Stars
Year it was published: 2017
Pages: 390

Someone to Wed is the love story of Wren and Alexander. He is the one who inherited the title, but not the money and needs a wealthy wife. Wren has issues, with her appearance and her family, and those are described in a realistic manner. It makes the book slightly different because I haven't read a book in which the heroine has issues with her appearance.
My rating: 5/5 Stars
Year it was published: 2017
Pages: 383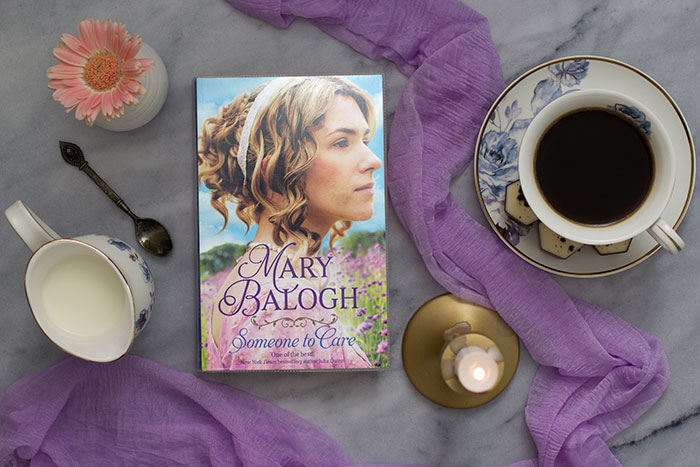 Someone to Care presents the story of Viola Kingsley, the "widow" of Humphrey Westcott, and Marcel, a man she knew for years. Both of them are in their 40s and that is another unusual thing to see in a book. I liked that a lot.
My rating: 5/5 Stars
Year it was published: 2018
Pages: 384

Someone to Trust is the story of Elizabeth, Lady Overfield, a widow and sister of Alexander. She falls in love with Colin Handrich, Lord Hodges, Wren's younger brother, from Someone to Wed. He is younger than her and, again, this is unusual in this kind of novels.
My rating: 5/5 Stars
Year it was published: 2018
Pages: 369
After these books, there are a couple more in the series, Someone to Honor and Someone to Remember. Both books will be published this year.
Someone to Honor is the story of Abigail, the third daughter of Humphrey Westcott, she is also illegitimate. She falls in love with Gilbert Bennington, a lieutenant colonel who has escorted her wounded brother, Harry, from the war with Napoleon.
Someone to Remember is the story of Matilda, an ageing spinster daughter, and Charles Sawyer, Viscount Dirkson, with whom she had a failed romance almost 40 years before.
Regency Novels by Mary Balogh – Simply Quartet Series
This is an older series, written in 2005 – 2007 and it comprises of four books. All the heroines were teachers in Bath, at the exclusive Miss Martin's School for Girls. I've read the books before going to Bath and they made me more excited about the trip (if that was even possible).

Simply Unforgettable is the story of Frances, a music teacher, and Lucius, Viscount Sinclair. The story starts when they meet in a snowstorm. Loved the story.
My rating: 5/5 Stars
Year it was published: the first edition in 2005
Pages: 343

Simply Love shares the wonderful story of Anne Jewell and Sydnam, a steward and a war scarred veteran. It was my favourite book in this series and it must have been one of my favourite regency books. Both of them have a past that left scars and that made the story so much more beautiful.
My rating: 5/5 Stars
Year it was published: the first edition in 2006
Pages: 373

Simply Magic. This is the story of Susanna Osbourne and Peter Edgeworth, Viscount Whitleaf. Her secrets are quite dark, much more shocking than I would have imagined. Peter is mummy's boy, bullied by her, hence the lower rating. I didn't like him.
My rating: 4/5 Stars
Year it was published: 2007
Pages: 343

Simply Perfect, the last in the series. Is the story of Claudia, the headmaster, and Joseph, a marquess. She is not pleasant at all, hence the lower rating.
My rating: 4/5 Stars
Year it was published: 2007
Pages: 343
---
---