My 2019 in Books
My 2019 in Books, a round-up. I've read 88 books, a few more than the challenge I took this year, of 75 books. In the reading challenge that I took, I planned to read three books and I've read only one of those, Lolita. I can try to read them next year, if I have the time and I'm in the mood for this.
I'm going to share the top 10 books from this year. Not an easy task when the first list had a lot more books on it. I deleted any fiction books, because as much as I've enjoyed them, I think non-fiction is best and that meant I could delete a few more books from the shortlist. Underneath the picture there is a short description of the book and a link to the review. The books are in the order that I read them.
Swimming Across. A Memoir by Andrew S. Grove is a book by a Hungarian Jew, born András Grof, who survived the Nazi occupation, only to be forced to escape to the US after the communists took over. He was one of the three who made Intel what it is today.
On The Origin of Species by Charles Darwin is a book more relevant than ever. I've read it before the Darwin's Day event and I enjoyed it. It is a must read, despite the fact that it was first published in 1859, 160 years ago.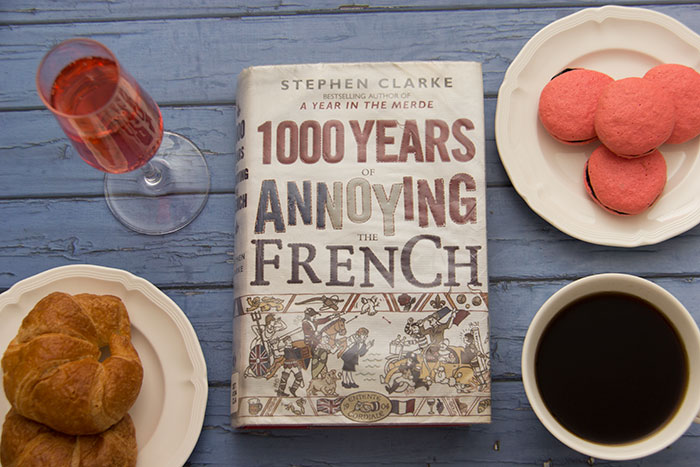 1000 Years of Annoying the French by Stephen Clarke is a hilarious book, non-fiction. I imagine most people would be surprised by some of the things mentioned in the book, from macaroons to champagne. I loved another book by him, How the French Won Waterloo, that is worth a read too.
Next book, Wild Swans Three Daughters of China by Jung Chang, is one of the hardest book to read in this list, because the subject is so difficult and shocking. What she, her mother, and her grandmother went through under the communists is painful to read. She tries to be as detached as possible, making the story even more poignant.
Salt: A World History by Mark Kurlansky has a special place, because this is one of the books I talked and was asked about in the interview for getting my place at the University. It was a coincidence that I finished that book just before my interview and, when asked about the last book I read, I said Salt. The professors and I had an interesting talk about it. It is also a fascinating book, filled with interesting details.
Winner of Best Books 2019 on Goodreads in the History genre, The Five by Hallie Rubenhold is a very good book. It is about the five women Jack the Ripper killed, but the book is about their lives and not their deaths. It offers an interesting view on Victorian society too.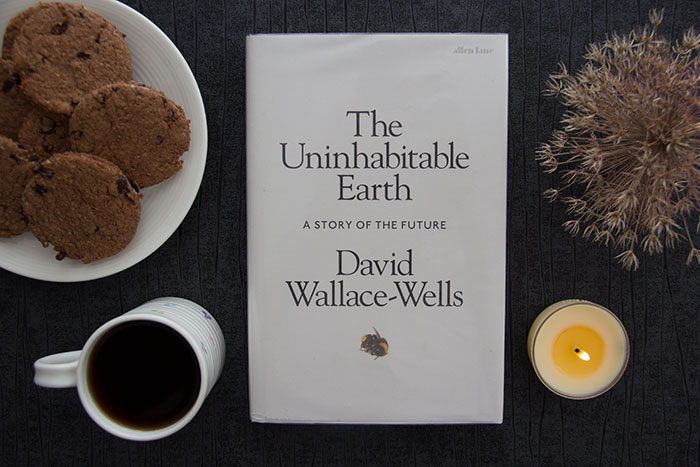 The uninhabitable earth by David Wallace-Wells was filled with details and interesting facts about climate change. It is an important subject and the book is heavy with facts, which can't be avoided, they are measured and we have to face them.
Homo Deus by Yuval Noah Harari or Sapiens or 21 Lessons for the 21st Century are all really good books and I've read all of them this year. I'm very intrigued by his views on hacking humans, so I highly recommend all these books. I picked only one for the list because it would have been too much to talk about all three of them.
It is strange for me to pick an YA book, but The Magic of Reality by Richard Dawkins was lovely written and I liked it. The main reason I picked it was because, as I mentioned in the review, I loved the way he describes the evolution, so vivid and wonderful, giving a bigger picture. I think the book is worth reading, at least for that chapter.
The last book is Nine Pints by Rose George, a book about blood. Does it sound strange? It might, but the subject is fascinating, as she talks on many different aspects of blood, from donations and transfusions to the atrocious situations women in India have to deal with when they are menstruating.
These are the 10 books I highlight from this year. I loved many more, including some fab fiction books.
Here are a few stats, according to goodreads: I've read 30,000+ pages. The shortest book had 74 pages and the longest one 730, almost 10 times bigger, what a fun stat to see. The most popular book on goodreads was Lolita and the highest rated was a history book, Images of Rule.
According to my stats:
* 29 books were fiction, with an average of 4.4 stars
– 16 Historical fiction & 8 Regency
– 5 Contemporary fiction
* 59 books were non-fiction, with an average of 4.4 stars
– 27 History
– 9 Science & IT & 2 Mathematics
– 6 Biographies & 5 Memoirs
– 6 Philosophy & 2 English
– 1 Politics & Economics & 1 Psychology
List of the books I've read, from first to last:
1. Swimming Across: A Memoir by Andrew S. Grove – 5 stars
2. To Sir Phillip, With Love by Julia Quinn – 5 stars
3. When He Was Wicked by Julia Quinn – 5 stars
4. It's in His Kiss by Julia Quinn – 5 stars
5. On the Way to the Wedding by Julia Quinn – 2 stars
6. The Bridgertons: Happily Ever After by Julia Quinn – 4 stars
7. Heavens on Earth by Michael Shermer – 5 stars
8. Someone to Trust by Mary Balogh – 5 stars
9. Sapiens: A Brief History of Humankind by Yuval Noah Harari – 5 stars
10. Redeeming the Rogue Knight by Elisabeth Hobbes – 5 stars
11. On The Origin of Species by Charles Darwin – 5 stars
12. Lost and Founder by Rand Fishkin – 4.5 stars
13. Science in the Soul by Richard Dawkins – 4 stars
14. Hitchens vs. Blair (The Munk Debates) by Hitchens and Blair – 4 stars
15. 1000 Years of Annoying the French by Stephen Clarke – 5 stars
16. The Tattooist of Auschwitz by Heather Morris – 5 stars
17. What Happened by Hillary Rodham Clinton – 4 stars
18. Eleanor Oliphant is completely fine by Gail Honeyman – 5 stars
19. Queen Elizabeth II: Her Life in Our Times by Sarah Bradford – 3.5 stars
20. Matilda by Tracy Borman – 5 stars
21. Wild Swans: Three Daughters of China by Jung Chang – 5 stars
22. Avignon to Croxteth by Maureen Lavelle – 4.5 stars
23. The Comet Sweeper by Claire Broke – 3 stars
24. The Scandalous Duchess by Anne O'Brien – 5 stars
25. Erebus by Michael Palin – 2 stars
26. The Cut Out Girl by Bart van Es – 5 stars
27. Falling for Her Captor by Elisabeth Hobbes – 4.5 stars
28. The Time Traveller's Guide to Elizabethan England by Ian Mortimer – 5 stars
29. Salt: A World History by Mark Kurlansky – 5 stars
30. The Designs of Lord Randolph Cavanaugh by Stephanie Laurens – 4 stars
31. The Saxon Outlaw's Revenge by Elisabeth Hobbes – 5 stars
32. Beguiled by the Forbidden Knight by Elisabeth Hobbes – 5 stars
33. Queen of the North by Anne O'Brien – 3 stars
34. The boy who followed his father into Auschwitz by Jeremy Dronfield – 5 stars
35. When a Duchess Says I Do by Grace Burrowes – 2 stars
36. The Future of Capitalism by Paul Collier – 5 stars
37. 12 rules for life by Jordan Peterson – 1 stars
38. The Art of Statistics by David Spiegelhalter – 5 stars
39. The librarian of Auschwitz by Antonio Iturbe – 4.5 stars
40. Becoming by Michelle Obama – 3 stars
41. Tamed by Alice Roberts – 3.5 stars
42. The Five by Hallie Rubenhold – 5 stars
43. The uninhabitable earth by David Wallace-Wells – 5 stars
44. Educated by Tara Westover – 5 stars
45. A Short History of Decay by Emil Cioran – 5 stars
46. English for the natives by Harry Ritchie – 1 stars
47. The Queen's English by Bernard C. Lamb – 5 stars
48. Absolute Certainty and Other Fictions by Pere Grima – 4 stars
49. Homo Deus by Yuval Noah Harari – 5 stars
50. Lolita by Vladimir Nabokov – 5 stars
51. Jiddy Vardy by Ruth Estevez – 2.5 stars
52. Henry VIII and the men who made him by Tracy Borman – 3.5 stars
53. The Victorian Catalogue by Dorothy Bosomworth – 5 stars
54. How the French Won Waterloo by Stephen Clarke – 5 stars
55. Fires of faith by Eamon Duffy – 4 stars
56. Edward VI by Jennifer Loach – 5 stars
57. Tudor England and its Neighbours by Glenn Richardson, Susan Doran – 5 stars
58. The Magic of Reality by Richard Dawkins – 5 stars
59. Elizabeth I and Her Circle by Susan Doran – 3.5 stars
60. English Reformations by Christopher Haigh – 5 stars
61. History Of British Costume by James Robinson Planché – 5 stars
62. The Oxford illustrated history of Tudor and Stuart Britain by John Morrill – 5 stars
63. The English by Jeremy Paxman – 3 stars
64. Henry VII by Sean Cunningham – 4 stars
65. Someone to honour by Mary Balogh – 4 stars
66. Henry VIII by Lucy Wooding – 5 stars
67. The Reign of Henry VIII by David Starkey – 3 stars
68. Cilka's journey by Heather Morris – 5 stars
69. 21 Lessons for the 21st Century by Yuval Noah Harari – 5 stars
70. We Are the Weather by Jonathan Safran Foer – 4.5 stars
71. A Very Special Christmas by Mary Balogh – 2.5 stars
72. Nine Pints by Rose George – 5 stars
73. The Mid-Tudor Crisis by David Loades – 5 stars
74. Mary Tudor by Judith Richards – 5 stars
75. Dissolution by C. J. Sansom – 5 stars
76. Elizabeth I by Christopher Haigh – 5 stars
77. A midsummer knight's kiss by Elisabeth Hobbes – 5 stars
78. Elizabeth I by Wallace MacCaffrey – 4 stars
79. Dark Fire by C.J. Sansom – 5 stars
80. How to Grow Old by John Bishop – 3.5 stars
81. Images of Rule by David J. Howarth – 5 stars
82. 30-Second Elements by Eric Scerri – 5 stars
83. Sovereign by C. J. Sansom – 5 stars
84. Revelation by C. J. Sansom – 5 stars
85. The Ascendancy of Europe by Matthew Anderson – 5 stars
86. Heartstone by C. J. Sansom – 5 stars
87. A Runaway Bride for the Highlander by Elisabeth Hobbes – 5 stars
88. Shakespeare's London by Stephen Porter – 5 stars
---
---