1000 Years of Annoying the French by Stephen Clarke
"You should not judge a book by its cover" is well known, but what about a title? 1000 Years of Annoying the French by Stephen Clarke sounded too funny not to borrow it from the library. I loved this book! It's hilarious. I'm going to read more non-fiction books by Clarke because I like his style. The style of writing can be better described as "stand-up comedy" than non-fiction. But it does talk about serious historical events and presents them in a delicate manner.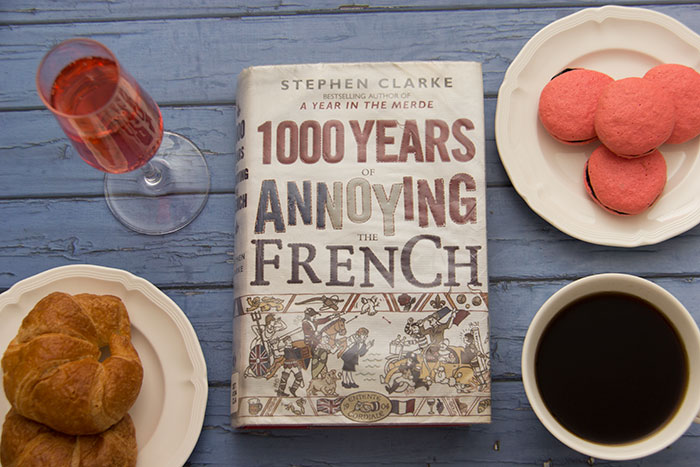 curious on the "props"? have a look at the end of the review for more details!
While I'm more (or less) familiar with the British history from William the Conqueror to the present day, I didn't know much about the French history and reading a book that deals with both at the same time is both interesting and informative.
He talks in the book about things I didn't know about, like the Cockleshell Heroes, a military operation in WWII. The role the French played in that affair was not too flattering though. This is something that you can see in the book, but the facts are the facts. Also, he does make fun of the Brits too, so I would say is a bit balanced.
If you want to have fun while learning a bit of history, do read this book. I've read passages to my husband and even the whole story of the Champagne, it was that interesting. I would read this book again, this is how much I liked it.
1000 Years of Annoying the French by Stephen Clarke
Details about the picture: Macarons and croissants, why would these two items annoy the French? Well, because they are not French. The Macarons are Italian, you can see a bit of history and my recipe for them on my other blog. Croissants are Austrian in origin.
Now, let's talk about Champagne, just to add a little to the annoyance. Champagne is called like that due to where the grapes are grown. It all started with a monk, Dom Pérignon, but he wanted his wines to be bubbles-free. Enjoying Champagne was made possible by factory produced English wine bottles (thicker, hence suitable for a wine that tends to explode in a thin bottle), with a process explained by an English scientist. The Brits were the ones that popularized this new drink, having lots of things to celebrated during the restoration, after a fun-free existence under Cromwell and the puritans.
My rating: 5/5 Stars.
Would I recommend it: YES!
Published by: Bantam Press
Year it was published: 2010
Format: Hardcover
Genre(s): Non-fiction. History
Pages: 542 pages
About the author: The way he describes himself on his website is fun, so this is a small extract:
"I grew up in Bournemouth, where I played bass in some of the worst rock bands in musical history before leaving town to study French and German at Oxford.
After university, I got a series of high-powered jobs – in the wine industry (grape picking), tertiary sector (washing up in a German hotel), and in international diplomacy (teaching English to bored French businessmen).
As soon as I heard about the possibility of a French 35-hour week, I moved to Paris and got a job as a journalist on an English-language magazine.
I also do my bit for the non-fiction side of Anglo-French relations. There's Talk to the Snail, a little book that tries to describe French society according to ten "commandments".
I've since updated 1000 Years… with 20,000 new words and Anglo-French stories. And produced Dirty Bertie, a biography of King Edward VII's adventures in France, and my study of French Bonapartists, How the French Won Waterloo (or Think They Did). Next, although in reverse historical order, came The French Revolution & What Went Wrong."
Website & Social Media Links: www.stephenclarkewriter.com/home
---
---