Reclaimed by Her Rebel Knight by Jenni Fletcher
Reclaimed by Her Rebel Knight by Jenni Fletcher seemed like a great story. Constance and Matthew married when she was 14 and he left without even a word. After five years he turned back and now they had to start from the beginning. I liked the story, although it did had a couple of minor issues (as in historical inaccuracies when it comes to man-woman relations in the 13th century). For examples he thinks that at 19 she is too young for marriage, which is, obviously, not realistic at all. In the 13th century a girl of 14 was considered old enough for motherhood. With the life expectancy at just a bit over 30, 19 was not young at all.
For the first 300 pages I would have given the book 4.5 or even 5 stars. As I said, the age thing was just a small issue that was a bit meh, but did not impact the enjoyment of the book. But, after the page 300 things changed. If you don't want to read spoilers, skip what I wrote beneath the picture.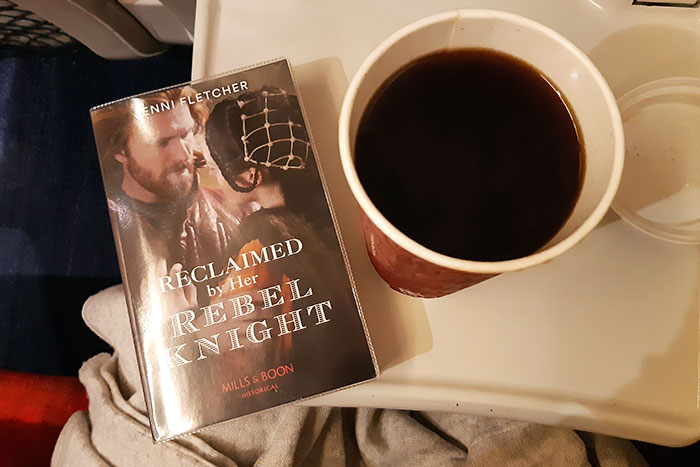 After a short time together, they were incredibly in love with each other, ready to make quite huge sacrifices. He is mature and explains her what is happening, but, somehow she thinks that she should have been consulted about his decisions… in the 13th century?! On top of that, she is strong in the story, but gets weaker and weaker, ending a blabbing teenager controlled and pushed around by her father-in-law.
The addition of the Magna Carta plot was so unnecessary, it did nothing to the story. The story was very good with them trying to know each other, dealing with skeletons from the past, there was no need for anything else. Also, they were thinking of how to justify the killing of a man at the end of the book… why not take a leaf from history and make it a "hunting accident" like the one William II had or just say that what a wealthy knight would say to the authorities was enough, with no questions asked.
Reclaimed by Her Rebel Knight by Jenni Fletcher
Details about the picture: I read it while commuting to London, hence the picture. The lighting was not great at 6.30 am.
My rating: 3/5 Stars
Would I recommend it: yes-ish
Published by: Mills & Boon
Year it was published: 2019
Format: Paperback
Genre(s): Fiction
Pages: 368
About the author: Jenni Fletcher was born in Scotland. Fletcher studied English at Cambridge University and got her PhD on Edwardian literature at Hull. Now she lives in Yorkshire, where she writes historical romance novels ranging from the Roman to Victorian eras.
Website & Social Media Links: –
---
---