History Of British Costume by James Robinson Planché
I bought History Of British Costume by James Robinson Planché from a museum gift shop. It was on offer and I couldn't resist, especially as I love fashion. The book was published in 1834 and that was another reason I wanted to read it. It is lovely written and very well organized.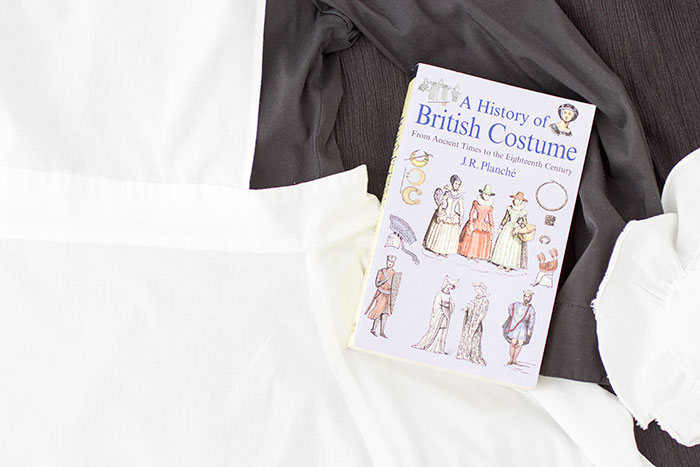 The book starts with a presentation of the clothes from ancient time. Every chapter deals with a period of time or a monarch (or a few). There are a lot of drawings to show how clothes looked like in that period. The drawings are based on paintings or, for the medieval era, on effigies. All the chapters have different subdivisions on topics such as female costume, aristocratic clothing, civil costume, clergy or/and mourning. Armours and weapons are also described and are accompanied by drawings.
I really enjoyed this book. It was very interesting to read details like the Danes with long hair, long sleeves, beautifully decorated armour, and quite puzzling horned shaped headdresses for women. Planché makes a few rather amusing remarks regarding the clothing that make the book a bit fun, but it is a serious, well documented history of fashion. I wonder what he would have said about the modern way of dressing.
History Of British Costume by James Robinson Planché
Details about the picture: This is a bit unusual, as there isn't a cup/mug of coffee near the book, but I thought it would be better to take the picture of the book near my 19th century maid outfit. I wear this costume when I'm volunteering.
My rating: 5/5 Stars
Would I recommend it: Yes
Published by: Charles Knight
Year it was published: 2001 (first published in 1834)
Format: Paperback
Genre(s): History
Pages: 376
About the author: James Robinson Planché was a British dramatist, antiquary and officer of arms. Over a period of approximately 60 years he wrote, adapted, or collaborated on 176 plays in a wide range of genres including extravaganza, farce, comedy, burletta, melodrama and opera. Planché was responsible for introducing historically accurate costume into nineteenth century British theatre, and subsequently became an acknowledged expert on historical costume, publishing a number of works on the topic. Planché's interest in historical costume led to other antiquarian research, including heraldry and genealogy.
Website & Social Media Links: –
---
---