English Reformations by Christopher Haigh
Judging by the name, English Reformations by Christopher Haigh – Religion, Politics, and Society under the Tudors, doesn't sound like a terrible exciting book (unless you are studying history). I couldn't be more wrong. This is such a well written history, very often with funny remarks. I think this would be enjoyed by anybody that has a mild interest in the English reformation.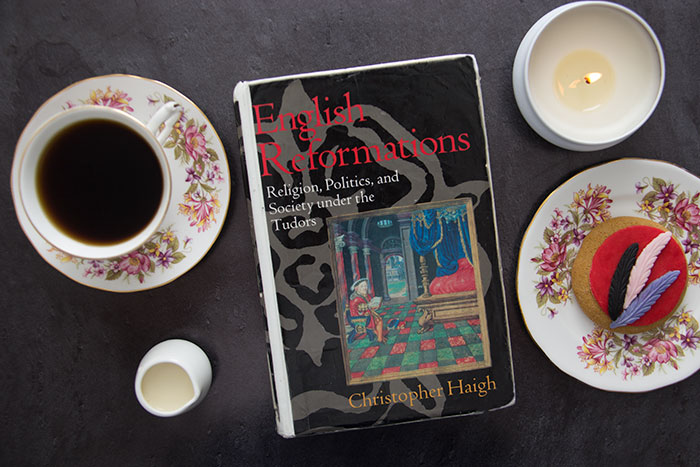 Haigh's study is based on facts and that makes the book fascinating. I enjoyed reading about the real lives of people in England and stories on how they received this new religion. Also, I liked that he stressed out a few times that, at the time, the future was unknown and the things the people, the government, and the monarchs were doing were a reaction to their current problems and ideas.
Haigh argues that Reformation was not a series of events that couldn't have had any other conclusion but an Anglican England. So many things could have been different, as he mentions in the book that at the time of Henry VIII's death the ones that had the same religious views were in disgrace and Protestants were in power. When Edward VI died his commissioners were hated for pillaging the churches and there was a reminiscence for Catholicism. When Mary died the political situation meant that Elizabeth was the best choice, despite her protestantism. It made me think that if Elizabeth would have died 4 years into her reign when she got smallpox and she would have been succeeded by Mary Queen of Scots, Britain would have been united earlier and, most likely, would be catholic.
Furthermore, in the book there are plenty of funny stories from the parishes up and down the country. For example, the squabbles in the churches with the altar vs the communion table were highly entertaining (Protestants coming in the night to replace the altar). I've enjoyed the book a lot and I highly recommend it.
English Reformations by Christopher Haigh
Details about the picture: –
My rating: 5/5 Stars
Would I recommend it: Yes
Published by: Oxford University Press
Year it was published: 1993
Format: Hardcover
Genre(s): History
Pages: 367
About the author: Christopher Haigh studied at Churchill College, Cambridge and the University of Manchester. He was a Tutor in Modern History at Christ Church, Oxford and University Lecturer at Oxford University. As a historian, he specialized in religion and politics around the English Reformation. He retired in 2009.
Books by Christopher Haigh: English Reformations; The Reign of Elizabeth I; Elizabeth I; Reformation and Resistance in Tudor Lancashire; England of Elizabeth: The Structure of Society
Website & Social Media Links: –
---
---