Zucked by Roger McNamee
Zucked by Roger McNamee with the subtitle Waking Up to the Facebook Catastrophe is a book I wanted to read, which I reserved at the library from last year, but with all the delays due to COVID, I only got it recently. Well, this was a bit meh. Some of the information he shares was new for me, as he offers an insight into what happens at Facebook. But the view is so biased that he completely misses the point, pretty much like Zuckenberg.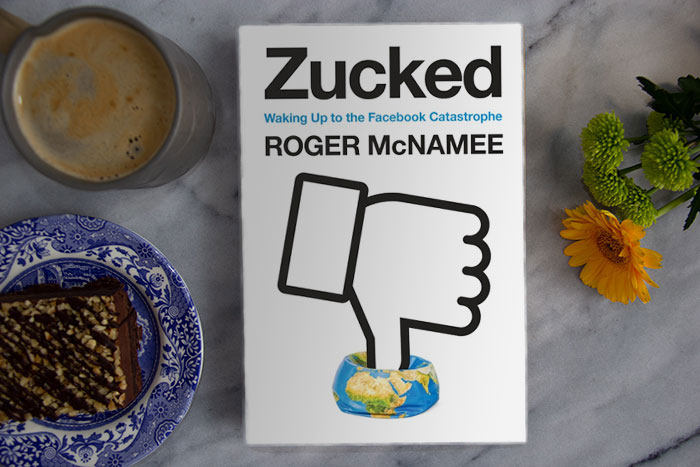 McNamee invested in Facebook, but, somehow only in 2016 realised the company is not doing what it should. But he is also disappointed in the lack of whistle blowers at Facebook. Well, people have to work to eat and have a shelter, so there is very little incentive to do anything, especially when it looks like everybody knows but prefers not to talk and, of course, when it's likely that nobody else would ever hire them again.
I said that the book is biased and misses the point. So, here is what he said at page 112:
"Prior to 2008, the tech industry maintained an especially low profile in Washington. All of that changed when Google…played a major role in Barack Obama's first presidential campaign, as did Facebook co-founder Chris Hughes. Obama's win led to a revolving door between Silicon Valley and the executive branch"
page 166: "Facebook may have bowed to the accusation of bias because of co-founder Chris Hughes' role in President Obama's re-election campaign in 2021."
The most important thing is between pages 196 and 197:
The second whistle-blower from Cambridge Analytica, Brittany Kaiser, worked in the 2008 Obama's campaign, voted for Bernie Sanders in 2016 (primary) and now, after working on Brexit and Trump's campaign she "wanted to stop telling lies", as she said the problem is that she was making excuses for "old white men".
Here are more details: "On behalf of Obama's re-election campaign, Hughes created an application that harvested friends data. The app differed…its true mission… – encouraging people to vote – was admirable". Well, he says that data harvesting is wrong, but it doesn't seem that he actually believes that. Also, encouraging people to vote is admirable if they are encouraging ALL people to vote, not just the ones who might vote for them, that's not admirable, that's campaigning.
Of course, the problem with democracy is that Facebook allowed Russian trolls (humans) and bots (automated) to help Trump win in 2016 and Brexit. So, the real problem is not when data is harvested, but when the other side is doing it better. Obama and people around his started this in 2008 and Facebook embraced it, that is the real problem. The fact that Trump's men did it better than Clinton's men is beyond the point. I wrote a quote on my review for The Age of Surveillance Capitalism by Shoshana Zuboff, which said that a campaigner knew who people are going to vote before they did, that person was working for Obama.
This is why allowing so much power to a few people in a couple of companies shakes democracies in western Europe. They are deciding who should be promoted and who shouldn't. How is that democratic? Some guys in Silicon Valley do not know better than everyone else. That being said, I do recommend the book, it is easy to read, albeit a bit repetitive.
Zucked by Roger McNamee
Details about the picture: –
My rating: 3/5 Stars
Would I recommend it: yes
Published by: Penguin Press
Year it was published: 2019
Format: Hardcover
Genre(s): IT
Pages: 336
About the author: Roger McNamee is an American investor and businessman and musician. He got his BA in History at Yale University and an MBA from Dartmouth College.
Roger McNamee was a founder of the musical group Flying Other Brothers who he toured with between 1997 and 2006, then with another group called Moonalice. In 2014 he formed a duo music group called the Doobie Decibel System. He was an early investor in Facebook, before he became very critical of its impact on society and democracy, especially in US.
Website & Social Media Links: –
---
---