Women's Lives and Clothes in WW2 by Lucy Adlington
When it comes to war, and especially WW2, I think of food shortages and mass destruction, but I did not consider how much life changed. Women's Lives and Clothes in WW2 by Lucy Adlington* deals with a less thought-off aspect of everyday life during wartime: clothing. I did not imagine this book would be so fascinating and I love history, as any of my readers already know.
Adlington is not focused only how women in Britain were impacted by the war, but she mentions both Nazi and their uniforms and also prisoners in concentration camps, Russian women fighting in the war, and also Italian, Japanese, and other nationalities. It made the book so much interesting than I imagined it would be.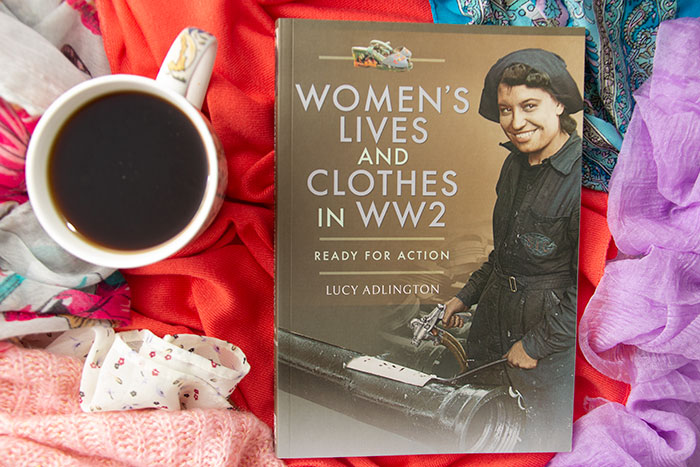 Each chapter is dedicated to an aspect of women's life during the war, from nurses' uniforms to wedding dresses. The chapter underwear was so poignant, as is not something we tend to think about, when our drawers are full and we have so many to pick from, lace or no lace, monochrome or colourful patterns. In the war, only a few decades ago, some women did not have underwear at all. It's shocking and makes one think.
The book is heavily illustrated and it offers a wonderful insight into the lives of real women, as there are also lots of quotes mentioned in the book. I just loved it! It is a fascinating book and, because of the subject and the way is written, it actually reads like a novel.
I will include a quote from the book, by Cossack medic Olga Vasilyevna: "I always tried to look neat, trim. I was very afraid that if I was killed I'd lie there looking unattractive."
Women's Lives and Clothes in WW2 by Lucy Adlington
Details about the picture: I've included lots of scarves to suggest different kind of fabrics.
My rating: 5/5 Stars
Would I recommend it: yes
Published by: Pen and Sword
Year it was published: 2019
Format: Paperback
Genre(s): History
Pages: 296
About the author: Lucy Adlington is an author, presenter, and keen collector of vintage & antique costume. She writes both history-inspired fiction and fascinating social history books.
Website & Social Media Links: Pen and Sword
*I was sent a copy of Women's Lives and Clothes in WW2 by Lucy Adlington for the purpose of this review. All opinions are my own.
---
---