When a Duchess Says I Do by Grace Burrowes
I'm looking for a new regency author. So, I borrowed When a Duchess Says I Do by Grace Burrowes to see if I'm going to like her style. I don't and I'm not going to read another book by her. The book is described: "An enchanting Regency romance with a fairy-tale twist from an always witty and delightful New York Times bestselling author…"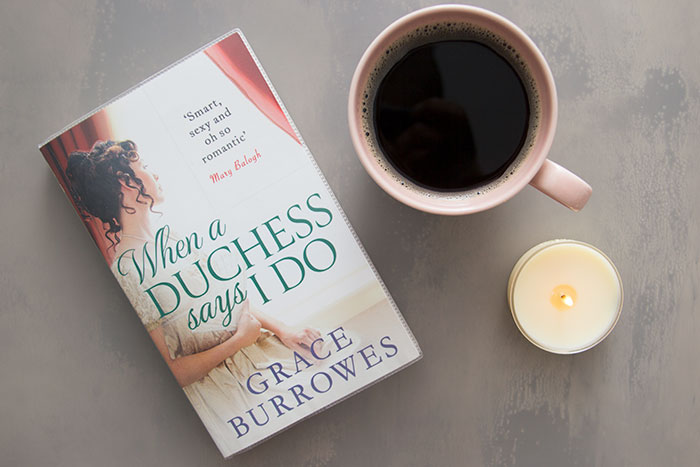 While I will refrain from spoilers, I'm going to highlight the issues with the book. It's very poorly researched and that got more and more annoying by the time I finished the book. First of all, despite being Regency, one of the characters says twice about talking with King George. Really?! The whole period is called Regency because King George couldn't act as king. As for the one that will be King George IV, at that particular time… he was a regent… hence the name of regency.
On top of that, the duchess was dunking her biscuits in tea (?!?!?!) and was saying to one of the maids that a clean bed is enough for a visiting duchess. The male character was bothered that his steward didn't help the Housekeeper with the heavy tray with tea and cakes. How can these things be incorporated into a historical fiction book is beyond me. It only shows how poorly the book was written.
Besides these things, the plot was not realistic at all and neither was the ending. I wouldn't have cared for the book due to the strange plot, but those small things made me give only 2 stars.
When a Duchess Says I Do by Grace Burrowes
Details about the picture:-
My rating: 2/5 Stars
Would I recommend it: No
Published by: Piatkus
Year it was published: 2019
Format: Paperback
Genre(s): Fiction
Pages: 352
About the author: Grace Burrowes was raised in rural Pennsylvania. She gained a master's degree in Conflict Transformation, had a law practice, but decided to write romance novels.
Website & Social Media Links: –
---
---