The Scandalous Duchess by Anne O'Brien
The Scandalous Duchess by Anne O'Brien is about the love story between Lady Katherine Swynford and Duke John of Gaunt. It is historical fiction and O'Brien keeps her story as close to reality as she can and I love that. I gave the book 5 stars, despite it having a kind of slow start. I did enjoy the book after the first 100 pages or so. The end is a bit of a let down, after his death, but not too much, so I left the rating at 5 stars.
If you already know the history, then there aren't any spoilers, if you don't, then you can decide if you want to read the rest of the review or not. You can skip and see the end with details about the book.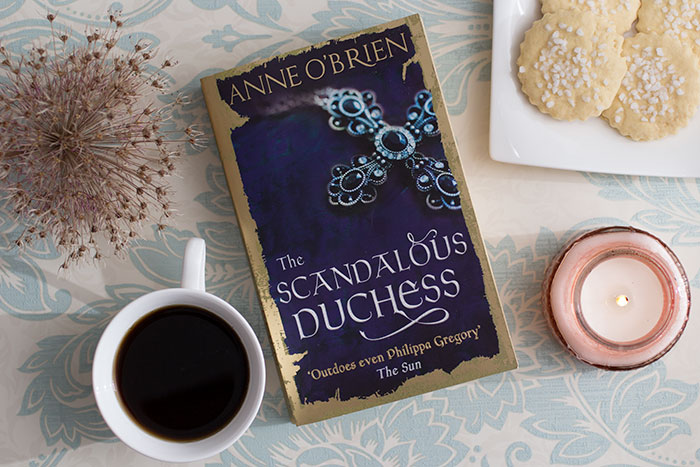 Katherine was already a widow, with three children, when the story starts. She was employed when his first wife was alive and now she asks John of Gaunt for a role in his household, considering that he was bringing home his new pregnant wife. They start an affair and she will bore him four children. In the book, O'Brien talks about what happened in the Peasants Revolt, in 1381, and makes up a story about Katherine's whereabouts at that time. I did enjoy a lot that part of the book.
As you might know, John's second wife dies in 1394, without giving him an heir. At that point, John can get married again. He decides to do something few people would have imagined he would, he married Katherine, his mistress, two years after that. He was keen on making sure their children would be legitimised and he achieved that by royal and papal decrees. They spent only a few years together, before his death in 1399.
I think O'Brien should have mentioned at the end of the book what happened next, in a couple of pages, no more, because that is fascinating as well. John, their first son, was the forefather of Henry VII and the Tudor dynasty. Joan, her third child and the only daughter, was the mother of Cecily Neville, mother of Edward IV and Richard III. Regardless, the book was nicely written and seems plausible, the story had a natural fluidity which I've enjoyed.
The Scandalous Duchess by Anne O'Brien
Details about the picture: –
My rating: 5/5 Stars
Would I recommend it: Yes
Published by: MIRA
Year it was published: 2015 (first published in 2014)
Format: Paperback
Genre(s): Historical fiction
Pages: 544
About the author: Anne O'Brien was born in Yorkshire. She learned History at Manchester University. After taking her Masters degree in education at Hull University, she went on to be a history teacher.
She always loved historical fiction and, after leaving teaching, she published her first historical romance book, in 2005.
Now, Anne lives with her husband in an 18th century timber framed cottage in Herefordshire, Wales. The place she lives in is an inspiration for her, with all the ruined castles, priories, and churches, among black and white timbered houses.
When she is not writing, she is gardening, growing vegetables and fruits, as well as tending to flowers and a pond.
Books by Anne O'Brien: Queen of the North, The Shadow Queen, The Queen's Choice, The King's Sister, The Forbidden Queen, The Scandalous Duchess, The Uncrowned Queen, The King's Concubine, Devil's Consort, Virgin Widow.
Website & Social Media Links: anneobrien.co.uk
---
---