The French Revolution by William Doyle
The French Revolution by William Doyle is quite a biased book, not to the standard I expected it to be. I will talk about two things from the book which stand out.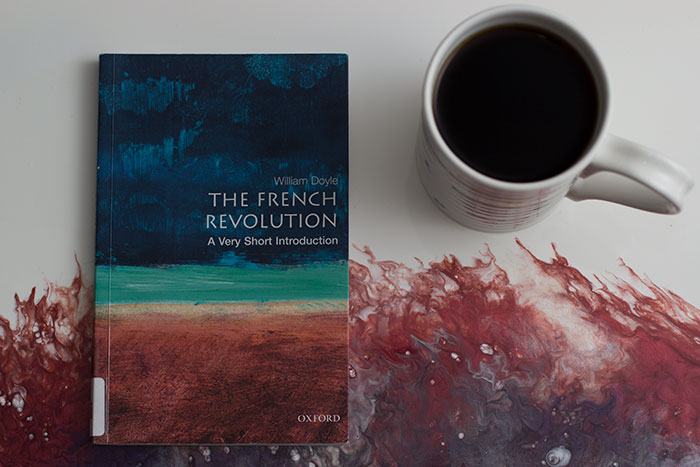 'All power, all authority, all institutions were now provisional, valid only so long as they could be justified in terms of rationality and utility. In this sense, the French Revolution really did represent the triumph of the Enlightenment, and ushered in the mental world in which we still live.' Of course, each one of us has its own views, but I wouldn't call the triumph of the Enlightenment the killing of hundreds of thousands of people, with no trial, after the constitution was made and the King was beheaded.
Also, he calls the constitution of 1793 'an extremely democratic one'. Which again sounds strange. While I don't judge the people of 18th century with the views we have today, I wouldn't call a piece of legislation in which all the poor and none of the women had the right to vote as extremely democratic. I think it was a good start and that is important to learn about it, and that's it.
I gave only 2.5 stars and I wouldn't recommend it because I don't imagine my readers are interested in reading a few books on the French revolution to make a decision on the matter. So, unless you plan to read a few books on this subject, I don't recommend it.
The French Revolution by William Doyle
Details about the picture: –
My rating: 2.5/5 Stars
Would I recommend it: No
Published by: Oxford University Press
Year it was published: 2001
Format: Paperback
Genre(s): History
Pages: 135
About the author: Professor William Doyle is Emeritus Professor of History at the University of Bristol. He wrote on French and European history, from the seventeenth to the mid-nineteenth century. He wrote about the nobles, the sale of offices, religion, and the Enlightenment.
This is part of the series A Very Short Introduction. Books in the series: Art History, The French Revolution, Anaesthesia, Chinese Literature, Aristocracy, Corporate Social Responsibility, Mao, Medical Law,
Website & Social Media Links: –
---
---