The Arrangement by Mary Balogh
The Arrangement by Mary Balogh is the second book in The Survivors' Club Series. This is the story of Vincent Hunt, Lord Darleigh, and Miss Sophia Fry. I loved this novel!
One of the most unexpected aspects of this book is that the hero is permanently blind. He can't see anything. This was a war wound, when a cannon blast on the Napoleonic battlefields went off too close to him. His struggles are so realistically presented. He had an overbearing family, which annoyed me greatly. His mother, grandmother, and sisters all were trying to rule his life and shove a suitable bride in his path, while moving, uninvited, to his home.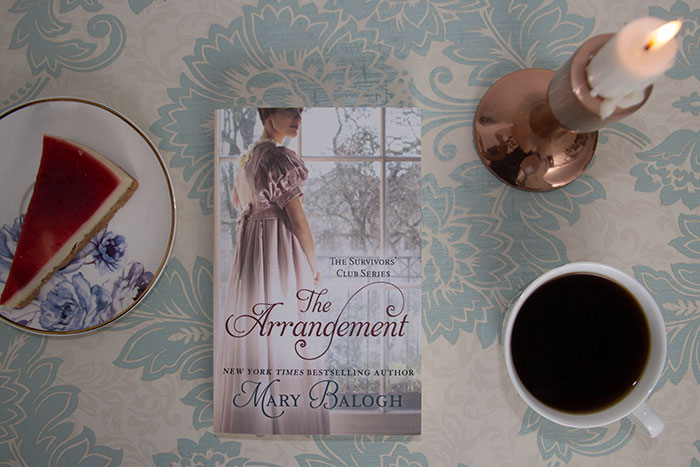 He flees his home and goes to a place he though he will have a quiet time. But soon he almost fells into a marriage trap and, by being saved by Sophia, he is compelled by his sense of duty to offer her marriage. I loved how their relationship evolved. It was lovely and heart-warming.
What I did not enjoy in the book was the extended family, both his and hers. Their relationship with them was annoying most of the time. It's true Vincent was young, as in his 20s, but that does not justify meddling and neither being presented in an acceptable, as it is "for love" kind of way. It didn't bother me enough to give the book less than 5 stars though.
The Arrangement by Mary Balogh
Details about the picture: –
My rating: 5/5 Stars
Would I recommend it: yes
Published by: Piatkus
Year it was published: 2013
Format: Paperback
Genre(s): Regency
Pages: 366
About the author: Mary was born in Wales in 1944. After graduating from University in 1960s, she moved to Canada. There she was a high school teacher. She got married to the Canadian Robert Balogh and they had three children. Besides writing, she also loves music, knitting, watching tennis and curling.
Mary Balogh started writing as a hobby, in the evenings. Her first book, A Masked Deception, a Regency love story, was published in 1985. After 20 years of teaching, in 1988, she retired from teaching to pursue her dream to write full-time. She has written more than seventy novels and almost thirty novellas since then. Her best known series are the New York Times bestselling 'Slightly' sextet and 'Simply' quartet. She has won numerous awards, including Bestselling Historical of the Year from the Borders Group. She has won seven Waldenbooks Awards and two B. Dalton Awards for her bestselling novels, as well as a Romantic Times Lifetime Achievement Award.
Website & Social Media Links: marybalogh
---
---