Putin's Prisoner by Aiden Aslin
Putin's Prisoner by Aiden Aslin – My Time as a Prisoner of War in Ukraine – written with John Sweeney. I think Brits know Aiden's name from the media coverage. He is born in Britain, went to Ukraine in 2018, joined the marines, and was stationed in Mariupol when russia's full-scale invasion started in 2022. He was caught, tortured, and then released. This is his story and it is one that should be read.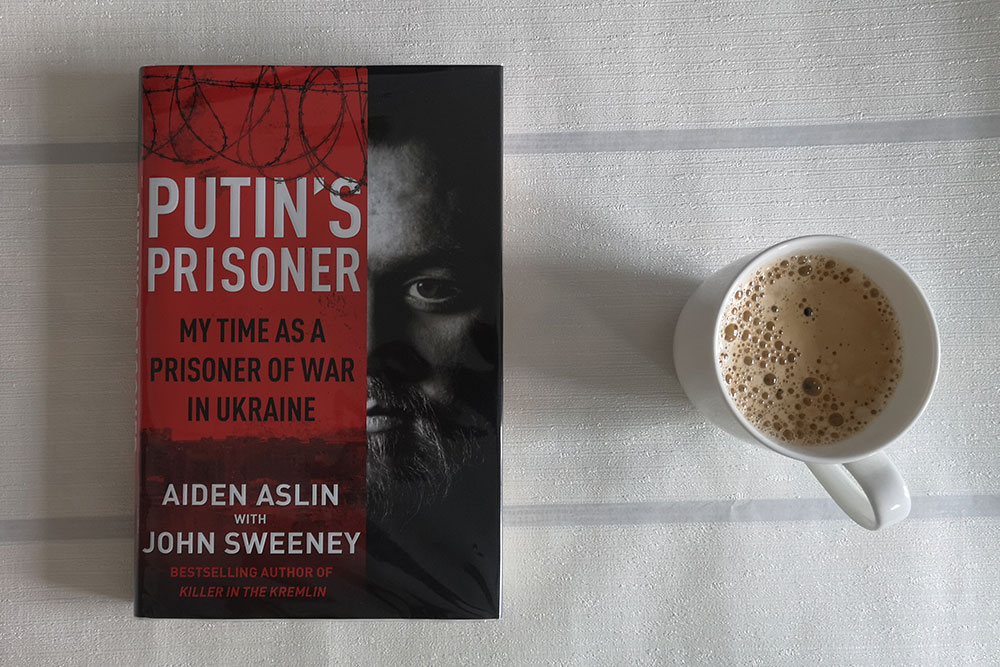 Aiden had previous experience as a soldier before he went to Ukraine. He fought alongside the Kurds and this part of the story is also told in the book, which is very interesting. He is open and honest about his experiences. After returning to Britain, he decided to move to Ukraine in 2018. He was very keen on joining the Ukrainian army, which he did. He was fighting in Donbas in February 2022.
Mariupol is a city in Donbas, in the Donetsk oblast (county). As I imagine everyone knows, he and many other soldiers were pinned down at Azovstall, steelworks. With food running out, they received the order to surrender. He was taken by the russians. When they saw his British passport he was beaten, tortured, stabbed, and turned into a propaganda zombie.
This is a story of failure. Not his, even though he was forced to make propaganda for the russians. Not everyone can resist the pressure of torture, the stabbing, the lack of food, the beatings, the psychological torture. The ones who can't resist to be tortured are not to blame, the blame lies with the ones who are doing the torture.
The failure is of the western states, the failure is of UN, and of amneZty (they used russian propaganda as their sources to say that Ukrainians are torturing POWs). These people, Aiden, Shaun (the other Brit who was in Mariupol), the Ukrainian soldiers, all of them should have been under the protection of UN. They were not, they were let down and, in turn, all of us were let down by these organisations.
He was interviewed by a Brit (who is a russian propagandist and under sanctions by UK) and that clip was put on youtube. How is that even possible? Does anyone think that a POW can respond in a sincere manner when he is imprisoned? Sure, they can be sincere about their lives where they lived, as the russians POWs are interviewed and this is shared online. But if a POW is full of blood and he says that he is a mercenary and that he saw civilians being killed, is obviously under duress. One of the features of interviews with russian POWs shared by Ukrainians is that they say they never fired a gun, which is clearly a way to protect themselves and also shows that those POW are not forced to say anything.
The only failure I can attribute to Aiden is the name of the book – putin's war. It's not putin's war. He was not beaten by putin, he was not forced by putin to sing the russian anthem each time someone was opening the door, he did not hear putin beating to death an Ukrainian in a nearby cell. Those were russians, ordinary russians, some happy to torture and others just happy not to be on the frontline, but all russians. This is why the book should be read, because it shows what the russians are thinking and doing and because it makes one question what the authorities we place our trust in are doing, alongside with the so-called human rights organisations that ask for our money as donations.
After six months in captivity, he was exchanged and could return to UK. He is sharing updates on his twitter account, so do follow him or check his account if you are curious, the link is at the bottom of this post.
Putin's Prisoner by Aiden Aslin
Details about the picture: –
My rating: 4/5 Stars
Would I recommend it: yes
Published by: Bantam
Year it was published: 2023
Format: Hardcover
Genre(s): Memoir
Pages: 288
About the author: Aiden Aslin is a British soldier who was defending Ukraine, a country where he moved in 2018. He was one of the Azovstal defenders.
John Sweeney is a journalist and author. He worked as an investigative journalist for the BBC's Panorama series. Before that he worked at The Observer, covering wars and revolutions in more than sixty countries including Romania, Algeria, Iraq, Chechnya, Burundi, and Bosnia.
Book by him I reviewed so far: The Useful Idiot (fiction), Killer in the Kremlin.
Website & Social Media Links: cossackgundi
---
---