Noise by Daniel Kahneman, Olivier Sibony, Cass R. Sunstein
Noise by Daniel Kahneman, Olivier Sibony, Cass R. Sunstein was published earlier this year and I was keen to read it. I read Thinking, Fast and Slow by Daniel Kahneman and I was curious to know more about noise. The book makes a clear difference between bias and noise. They point out that there is a lot of talk about biases but not too much on noise, maybe, I would say because of the availability bias when it comes to the relation between biases and bad judgements.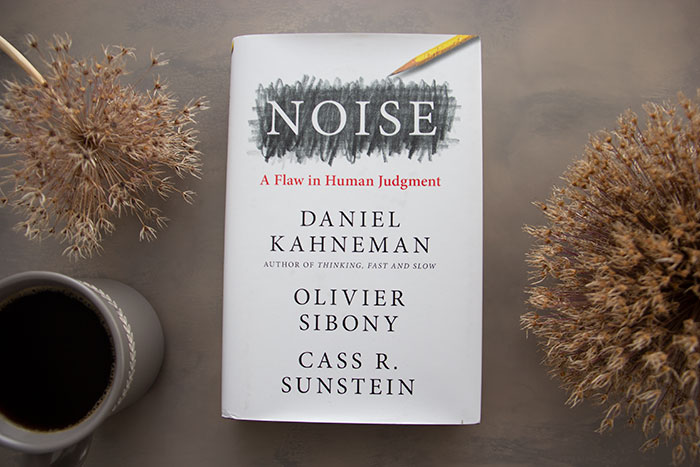 They use a lot of examples, such as doctors giving different diagnoses to identical patients and judges who give different sentences for the same crime for an array of reasons, such as if the court hearing is on the accused's birthday or not. It was very interesting to read about noise and, even more, how extensive the problem really is. I would have liked to have shorter and clearer examples at times, hence the 4.5 stars instead of 5.
At the end of the book they are talking about ways to reduce noise and if the costs of reducing noise are worth the effort. For example, a teacher who marks essays is affected by noise, so each essay could be marked by 5 teachers, but that would mean a lot more resources for something that might not be so important. Although, of course, trying to understand noise and reduce it as much as possible would make all our lives better overall, both as consumers and in our careers.
Noise by Daniel Kahneman, Olivier Sibony, Cass R. Sunstein
Details about the picture: –
My rating: 4.5/5 Stars
Would I recommend it: yes
Published by: Little, Brown Spark
Year it was published: 2021
Format: Hardcover
Genre(s): Psychology
Pages: 454
About the authors:
Daniel Kahneman is an Israeli-American psychologist and winner of the 2002 Nobel Memorial Prize in Economic Sciences, notable for his work on behavioral finance and hedonic psychology. He wrote Thinking, Fast and Slow, another amazing book worth reading.
Olivier Sibony is Professor of Strategy at HEC Paris. He is also an Associate Fellow of Saïd Business School in Oxford University, and has taught at London Business School, Ecole Polytechnique. He is a knight in the French Order of the Légion d'Honneur.
Other books by him: You're About to Make a Terrible Mistake! and Cracked It! How To Solve Big Problems and Sell Solutions Like Top Strategy Consultants.
Cass R. Sunstein is an American legal scholar. Sunstein taught at the University of Chicago Law School for over two decades and he was Administrator of the White House Office of Information and Regulatory Affairs in the Obama administration.
Website & Social Media Links: –
---
---