Instant History by Sandra Lawrence
Instant History by Sandra Lawrence* is a small but informative book from the Instant series. I have three more books from this series to review, including one that I'm reading at the moment, on Engineering. The book is divided into four periods: Early modern period; Long 19th century (1789-1914); War years; Cold war to present day.
There are over 150 one-page presentations of a subject or event, not only from Europe and America, but it includes descriptions from all over the world. The subjects mentioned are very varied, ranging from the Great Fire of London to punk rock and the miniskirt. It was really interesting to read.
Each subject has a short, 1 sentence description. It continues with the relevant dates and other statics such as size of armies, result, location, mission, including a timeline where is suitable. After that the subject is presented in a few short sentences on different aspects of what happened, like the aftermath. This is the kind of book which appeals to a wide audience. The subjects are interesting, but the succinct presentation with highlights makes it easy to read and enjoined by adults and teenagers. I highly recommend it.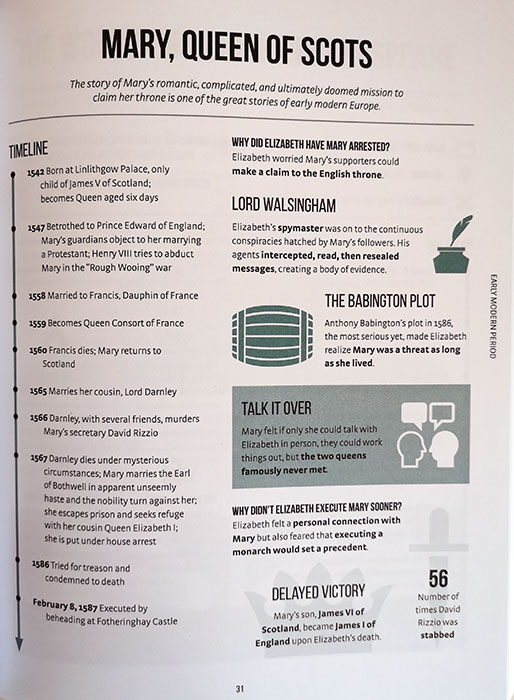 This is how a page looks like. I did not want to push the book open, so the picture is not as clear, but you can get a sense of how the information is shown.
Instant Series:
Instant History by Sandra Lawrence
Instant Engineering by Joel Levy
Instant Science by Jennifer Crouch
Instant Mathematics by Paul Parsons and Gail Dixon
Instant History by Sandra Lawrence
Details about the picture: –
My rating: 5/5 Stars
Would I recommend it: yes
Published by: Welbeck Publishing
Year it was published: 2019
Format: Paperback
Genre(s): History
Pages: 175
About the author: Sandra Lawrence is a journalist and author. She wrote for publications like The Telegraph, Guardian, Independent, Marie Claire. Her books are on folklore, mythology, and festivals.
Website & Social Media Links: welbeckpublishing
*I was sent a copy of Instant History by Sandra Lawrence for the purpose of this review. All opinions are my own.
---
---