I Am Malala by Malala Yousafzai
I Am Malala by Malala Yousafzai, written with the help of Christina Lamb. I was keen on reading about Malala and I did enjoy the book. That being said, I gave it 4 stars because I found it tiring how many times god was mentioned. Obviously I was expecting that from a religious person, but it was too much for me. Especially when it compared who is more Muslim, a pacifist or a killing Taliban. That was a bit inappropriate from my point of view. The book is very well written, besides this, thus is why I would recommend it, and also why I'm glad I've read it.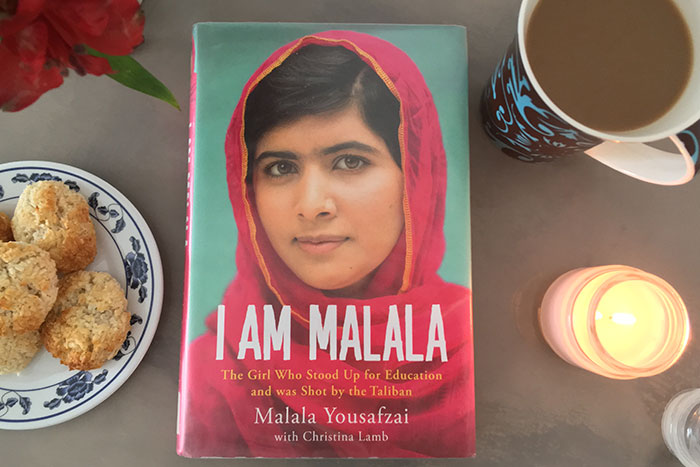 I think most people heard about Malala, the young girl that was shot in the head by the Taliban because she was an activist for female education. Reading about their lives in Pakistan was illuminating. I take for granted some of the privileges I have and I'm bothered when I feel my rights are not respected. I can't even conceive how it is not to be able to go outside without a male companion. Not being able to go shopping or to the library. Women are not allowed even to answer the door. Imagine that. Today I've answered the door and took a parcel from the delivery guy, something so natural that would have been impossible if I was born in Pakistan.
In the book, the authors talk about the situation in the Swat region of Pakistan, where the Taliban were. I can say I learned a few things about the situation and, unfortunately, some things were just as I've imagined them to be. In the beginning, the Taliban were welcomed. In my opinion that happened, in part, due to the lack of education, the levels of illiteracy being high. These details only make the book even more exciting to read. It also gives all the important context.
I Am Malala by Malala Yousafzai
Details about the picture: –
My rating: 4/5 Stars.
Would I recommend it: yes
Published by: Orion Books
Year it was published: 2013
Format: Hardcover
Genre(s): Non-fiction. Memoir
Pages: 276
About the author: Malala Yousafzai is a Pakistani activist for female education. She is also the youngest-ever Nobel Prize laureate. Malala is known for human rights advocacy, especially education of women in her native Swat Valley in Khyber Pakhtunkhwa, northwest Pakistan. There, the local Taliban, had at times banned girls from attending school. Her advocacy has since grown into an international movement. This year, 2018, she started studying Philosophy, Politics, and Economics at Oxford University.
Christina Lamb is a foreign correspondents. Was educated at Oxford and Harvard, wrote a few boks, and received awards for foreign and war correspondents.
Website & Social Media Links: www.malala.org
---
---