Human Universe and Forces of Nature by Brian Cox
Human Universe and Forces of Nature by Brian Cox and Andrew Cohen are two books in one. This is not the first book I'm reading by Cox. The first one was earlier this year, Wonders of the Solar System and the Universe by Brian Cox. I've enjoyed his first book a lot and I had high hopes for this one too.
Sadly, it was disappointing. Not because I don't agree with his views on the primeval soup or pond, how you prefer to call it. I rather trust the views of Richard Dawkins in his book The Selfish Gene, another book I've enjoyed this year. The style of writing was not as good, the sentences were long and not as easy to follow. On top of that, he went from mundane comments to very complex arguments. Also, he mentions the TV show way too many times.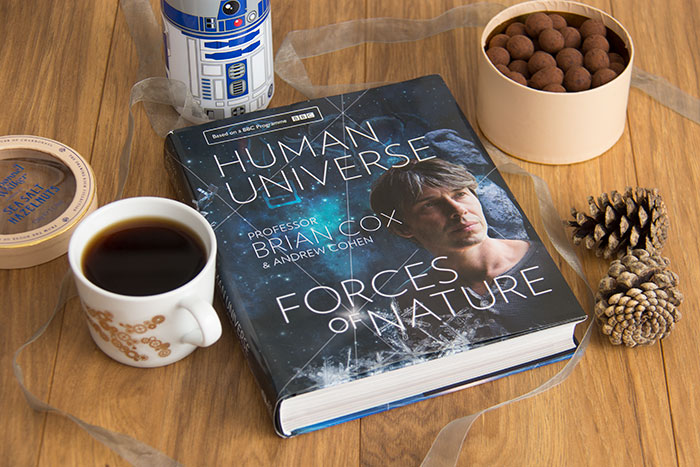 The publication I have is made up of two separate books: Human Universe and Forces of Nature.
In Human Universe a few questions are asked: Where are we? Are we alone? Who are we? Why are we here? What is our future? I did enjoy this book more than the second one. The chapter about snowflakes was very interesting. I found that the most intriguing one.
The second book, Forces of Nature, has 4 chapters: Symmetry, Motion, Elements, and Colour. In the symmetry he talks about snowflakes again. I liked the last chapter about colours, where he talks about rainbows and that was interesting. The last few pages, about chlorophyll and the colour of water, were very engaging too. The ideas he talks about are fascinating, but his style in his book is just not as fluid as the other books.
Human Universe and Forces of Nature by Brian Cox
Details about the picture: –
My rating: 2.5/5 Stars.
Would I recommend it: Yes, I would recommend Human Universe.
Published by: William Collins
Year it was published: 2017, my edition
Human Universe was published in 2014 for the first time; Forces of Nature was published in 2016 for the first time)
Format: Hardcover
Genre(s): Non-fiction.
Pages: 273 (Human Universe) and 287 (Forces of Nature)
About the authors: Professor Brian Cox is a particle physicist. He teaches at the School of Physics and Astronomy in the University of Manchester. Cox studied at the University of Manchester. He often appears at the BBC at different TV shows, including Wonders of the Solar System.
Andrew Cohen is Head of the BBC Science Unit, and he was Executive Producer of the BBC series Human Universe. He is an honorary lecturer in Life Sciences at the University of Manchester. He lives in London.
Website & Social Media Links: briancoxstore.com
---
---