Great War Britain by Pamela Russell. Liverpool: Remembering 1914-18
Great War Britain by Pamela Russell. Liverpool – Remembering 1914-18. I took this book from the library because I was curious about it. I like the way it was made, with lots of relevant pictures and beautiful decorated pages. Despite this I didn't have high expectations. I was wrong. The book was so interesting and I did learn a few new things, like the "Pals battalions".
750,000 man died or 9% of all British man under 45.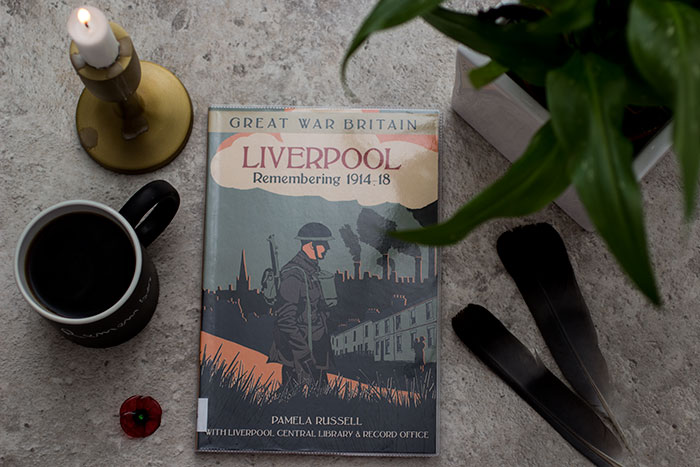 With Remembrance Day in less than a couple of weeks, it can't be a better time to share a book review for the Great War Britain by Pamela Russell. She did a lot of research and starts by talking about King John and when he founded the city in 1207. I wasn't aware, but the Liver bird, a motif I thought is quite new, actually is the Eagle of St. John holding in its beak a spring of planta genista (from where the name Plantagenet comes from, King John being the son of Henry II, the first Plantagenet king).
She went on to talking about all sort of things related to the war. I wasn't aware that Belgians were taken in as refugees in Liverpool and Birkenhead. As I mentioned earlier, the idea of the pals battalions was very intriguing. She shares a recipe for Trench cake that I want to recreate. Maybe for Remembrence Day, if I have the time.
Russell talks about what happened after the war too. How single women and widows would attack married women in newspapers, for example: "Put the married women out, send them home to clean their houses and look after the man they married and give a mother's care to their children. Give the single women and widows the work." Not quite a meritocracy, is it?
It was heartwarming to read about the Blue Cross Fund, a charity aimed at helping war horses. I didn't know about that. What I knew is that a big percentage of officers died, having a huge impact on titled families. In fact 17% of officers died comparing to 12% of soldiers, as they were leading from the front. 20% of former pupils from Eton died. That is a grim statistics.
In 1923 the Duchess of York placed her bouquet on the tomb of the Unknown soldier at Westminster Abbey, before the ceremony. Her brother Fergus was an officer who died and his body had not been found. She will become Queen Consort of George VI and Queen mother to Queen Elizabeth.
Great War Britain by Pamela Russell. Liverpool: Remembering 1914-18
Details about the picture: I used a poppy brooch I have as prop, as I thought it will be appropriate.
My rating: 5/5 Stars.
Would I recommend it: Yes
Published by: The History Press
Year it was published: 2018
Format: Paperback
Genre(s): Non-fiction. History
Pages: 155
About the author: Pamela Russell grew up on Merseyside. She has an M.Phil and taught undergraduates and post-graduates for many years before retiring in 2005. Pamela is a founder member of the Maghull & Lydiate Local History Society, and has been its president from 1990. In 2003 she has received Lydiate's Civic Award for services to local history in the community. More recently she has been invited into her local primary schools to assist with their First World War project.
Website & Social Media Links: N/A
---
---