Black Poppies by Stephen Bourne
I was intrigued by Black Poppies by Stephen Bourne because it deals, as the subtitle mentions, with Britain's Black Community and the Great War. It was interesting to see how they were seen by the rest of population. Black soldiers were included in the regular armies, it was not segregated like the US army was, with black regiments and white regiments. Bourne makes some comparisons between how black people were viewed in US and UK at that time. I just wish he would have said a bit more, but that was not the scope of the book. It was also interesting to see what black women did during the war, on the home front.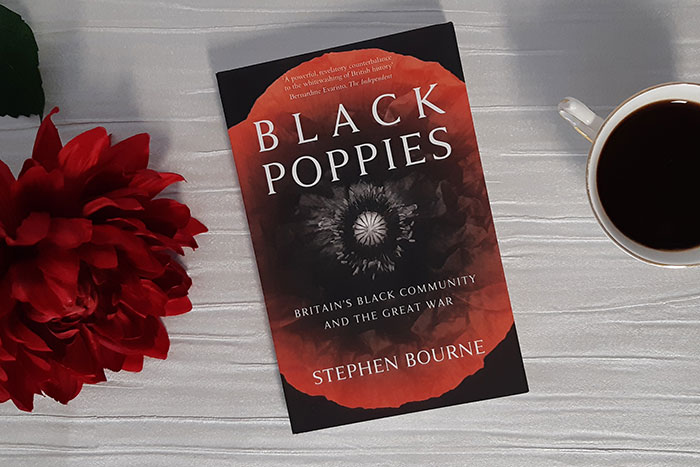 After the war, with unemployment rising and the country still getting the grips with how to rebuild, black people were seen as "the other", the reason white soldiers didn't have a job to come back too. Surprisingly, as I had no idea about this, marriages between white women and black men (mostly, as single men were the ones who came to Britain before and during the war) were not frowned upon and largely accepted. This changed imminently after the war and in the 30s mixed race marriages were not seen as strange. I was surprised by that fact.
Bourne touches on the race riots of 1919, after the war, and he devotes a small chapter to Charles Wootton, who was killed in Liverpool by a mob. The police tried to help Charles, tried to protect him, but they arrived too late and they were greatly outnumbered, which is, again, something very interesting. I would like to read more about this sad case. Also, the fact that only one person died, drowned, it's telling of how far the people were willing to go. It was also interesting to read women's involvement in rescuing some black people from angry mobs.
Bourne uses so many primary sources, such as letters and extracts from newspapers, alongside many photographs. I can't recommend this book enough, it's really interesting, with small chapters, making it a delight to read. I'm really glad that I've discovered and bought this book, it was well worth reading it.
Black Poppies by Stephen Bourne
Details about the picture: –
My rating: 5/5 Stars
Would I recommend it: yes
Published by: The History Press
Year it was published: 2019 (first published in 2013)
Format: Paperback
Genre(s): WWI
Pages: 256
About the author: Stephen Bourne is a British writer, a social historian specialising in black heritage and gay culture.
Books by him include Fighting Proud: The Untold Story of the Gay Men Who Served in Two World Wars; The Motherland Calls: Britain's Black Servicemen Women, 1939-45; Mother Country: Britain's Black Community on the Home Front 1939-45; Brief Encounters: Lesbians and Gays in British Cinema 1930-1971.
Website & Social Media Links: –
---
---