Absolute Certainty and Other Fictions by Pere Grima
Absolute Certainty and Other Fictions by Pere Grima – The Secrets of Statistics. This is book #13 in the Our Mathematical World collection by National Geographic. I've enjoyed reading it. It has some basic notions on experiments that I imagine most readers will remember; for example a good explanation on what "double blind" experiments mean. This is one of the thing will make readers understand better if they aren't familiar with these concepts before reading the book. For me, as I already knew these as part of my studies, the book was still very enjoyable, and I gave it 4 stars.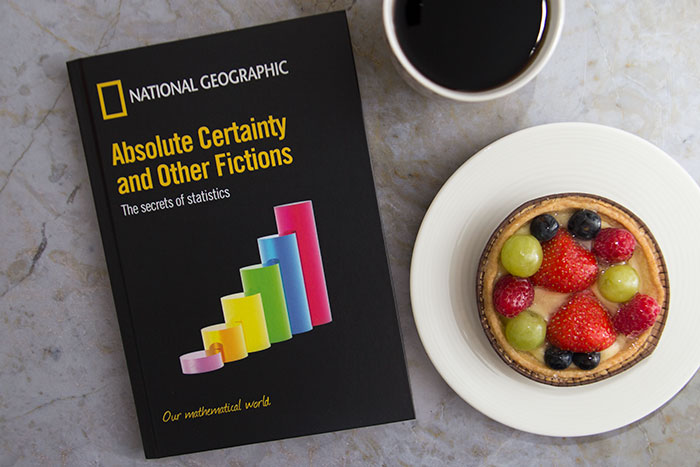 The book has five chapters, each dealing with a different aspect of statistics. It starts with descriptive statistics and in this chapter he mentions Florence Nightingale and John Snow, a Victorian doctor with a fascinating discovery. I would love to read more about both of them. The second chapter is about calculating probabilities and, of course, there is a lot about dice experiments in it.
Chapter three deals with generalizations based on a sample and how it can be accurate or not. The part about the election polls was fascinating. Next chapter is about decision making and contrasting hypotheses. In the last chapter, Grima talks about studies and here is where he mentions the double blind studies and why they are so important.
In the last few pages of the book, he gives some rather amusing experiments one can try at home. One of them involves Champagne and another one flowers, so not at all boring.
Absolute Certainty and Other Fictions by Pere Grima
Details about the picture: –
My rating: 4/5 Stars
Would I recommend it: Yes
Published by: RBA Coleccionables
Year it was published: 2017
Format: Hardcover
Genre(s): Mathematics
Pages: 142
About the author: Pere Grima works as an Assistant Professor at the School of Industrial Engineering, the Department of Statistics and Operations Research, in Spain. He participates in postgraduate courses for professionals such as Six Sigma Improvement Programmes.
Website & Social Media Links: –
---
---