A Promised Land by Barack Obama
Reading A Promised Land by Barack Obama reminded me of something Yuval Harari said, that any politicians who would say the whole truth would not get elected. I'm not saying this because I think Obama lied, but because the book showcases the political intrigues during elections and in Parliament, it shows how facts are less important than perceptions even in what is supposed to be (perceptions again) the most democratic country in the world. I don't see US like that, which is quite disheartening.
I did not follow Obama's campaign in 2008 because who was the president of US made very little difference for me, less than now, when I'm living in UK. The book promises to be: "A riveting, deeply personal account of history in the making—from the president who inspired us to believe in the power of democracy." I can't agree with that. There are personal stories, but not as many. Also, after reading the book I am not inspired to believe in the power of democracy, as it shows the power struggles on both sides, politicians being more interested in their next election than a support package after the financial crash or the implications of climate change. It made it easier for me to understand why Trump was elected, as an answer to traditional politicians and how much they undermined the trust people have in them, on both sides of the political spectrum.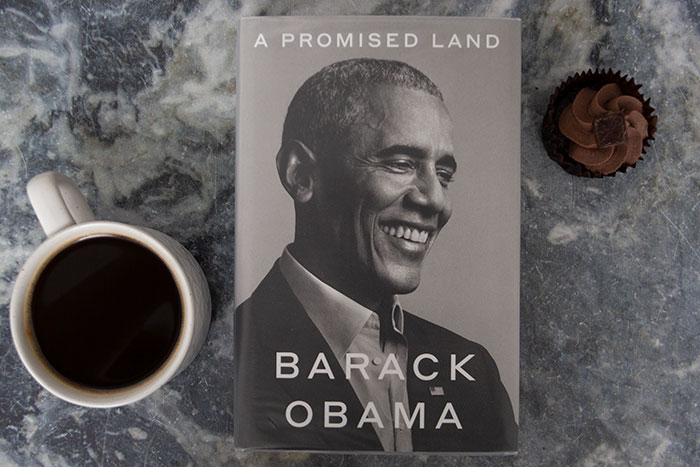 I was expecting an interesting book and it was, but, it was so long, at 700 pages. Although I think the book would have been easily made more accessible, at 550-600 pages without loosing anything from its meaning. I gave it 3 stars because the book is a bit of a mismatch. Reading it made me wonder who is the target audience. There are 3-4 pages of descriptions of a specific event which implies that the reader is not supposed to know about that particular issue, but, at the same time, there is a list of names of advisors and so on. I doubt that anyone who is interested and knows X or Z government advisor is not privy to the Middle-Eastern problems or the Arab Spring.
He fails to mention how much social media and internet played a part in his 2008 election, which is a bit strange, but understandable at the same time.
Obama acts, at times, as a conceit American who thinks that he knows best because he is American, the so-called leader of the free world. He brushes off faux-pass like Michelle's touching the Queen, saying that it doesn't matter. Well, it does. He might be the most important person in US, but he is not the most important person in the UK, hence, Michelle made a mistake when she touched the Queen. It would have been just as if she went to Saudi Arabia or any Arab state in a miniskirt with a cleavage just about covering her modesty. When invited in a country, one should respect their customs. It's not a sign of power, but of insecurity not to. The whole story would have been easier to dismiss if an apology was issued, instead of the "we were right" approach. Michelle felt comfortable with the Queen and she made a gesture of closeness, which is natural in almost all occasions and there is nothing wrong about that. The fact that it's brushed off, that's the problem, at least for me.
I will share a passage from the book, which stood out for me, and it was one of the reasons I gave the book 3 stars too, from page 571 [his italics]:
"…to stop drilling entirely; but that wasn't going to happen because at the end of the day we Americans loved our cheap gas and big cars more than we cared about the environment, except when a complete disaster was staring us in the face; and in the absence of such disaster, the media rarely covered efforts to shift America off fossil fuels or pass climate legislation, since actually educating the public on long-term energy policy would be boring and bad for ratings; and the one thing I could be certain of was that for all the outrage being expressed at the moment about wetlands and sea turtles and pelicans, what the majority of us were really interested in was having the problem go away, for me to clean up one more mess decades in the making with some quick and easy fix, so that we could all go back to our carbon-spewing, energy-wasting ways without having to feel guilty about it."
If only the person writing this was not the leader of the free world for 8 years, with the possibility to influence lots of aspects, from school curriculum to having online talks instead of flying to different countries, picking more veggie food instead of "comfort food", and talking about climate change in press conferences.
A Promised Land by Barack Obama
Details about the picture: –
My rating: 3/5 Stars
Would I recommend it: yes
Published by: Crown Publishing Group
Year it was published: 2020
Format: Hardcover
Genre(s): Memoir
Pages: 751
About the author: Barack Obama was the 44th president of the United States, elected in November 2008 and holding office for two terms. He is the author of two previous New York Times bestselling books, Dreams from My Father and The Audacity of Hope, and the recipient of the 2009 Nobel Peace Prize.
Website & Social Media Links: –
---
---