30-Second Elements by Eric Scerri
My husband got this book, 30-Second Elements by Eric Scerri, after visiting the Science Museum in Oxford. It is part of a series of 30 seconds books on a large array of topics, from sciences to arts and humanities. I will read more books from this series, as they are so interesting.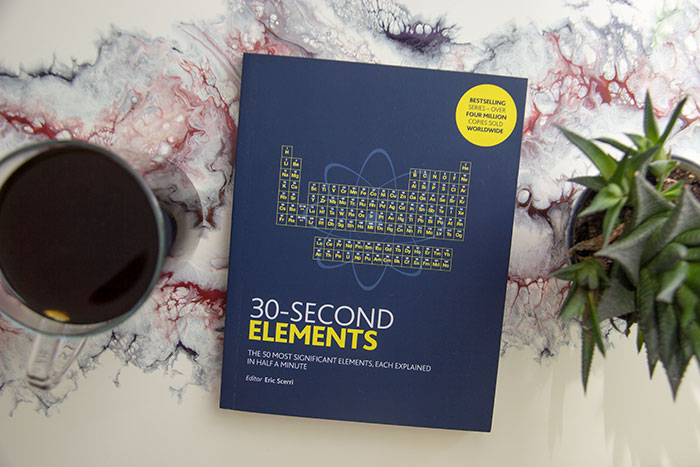 I was curious to read it too, as I used to love chemistry in school. This short book is about the 50 most significant chemical elements. Each element has two pages dedicated to it, with pictures, an around 300 words description, and a few other details. The collages which accompany each element are interesting too, showing how the element is used in everyday life, where applicable.
There are some short biographies of the chemists who revolutionized chemistry. The book is really nicely made, with lots of interesting details. It is definitely for the layman, not too technical to put off people who can't remember a lot of details from school.
30-Second Elements by Eric Scerri
Details about the picture: –
My rating: 5/5 Stars
Would I recommend it: Yes
Published by: Icon Books
Year it was published: 2013
Format: Paperback
Genre(s): Science – Chemistry
Pages: 160
About the author: Eric Scerri is a chemist and writer, of Maltese origin. He is a lecturer at the University of California, Los Angeles. He is also the founder and editor-in-chief of Foundations of Chemistry, an international peer reviewed journal covering the history and philosophy of chemistry, and chemical education.
He is a world authority on the history and philosophy of the periodic table and is the author and editor of several books in this and related fields.
Other books by Eric Scerri: The Periodic Table: A Very Short Introduction; A Tale of Seven Elements.
Books in 30-Second Series: Anatomy; Ancient Greece; Architecture; Brain; Chemistry; Economics; Einstein; Elements; Fashion; Forensic Science; Great Inventions; Math; Medicine; Newton; Opera; Physics; Psychology; Quantum Theory; Wine.
Website & Social Media Links: –
---
---