Walter Rothschild by Miriam Rothschild
I saw the book Walter Rothschild by Miriam Rothschild – The Man, the Museum and the Menagerie. When I visited Waddesdon Manor a couple of months ago. I didn't buy it then, but when I found it at the library, I though I should get it.
Walter Rothschild was born into what was one of the wealthiest families in the world. He became one of the best known zoologists of his day. I've seen some pictures of him at a TV show, but I can't remember which one. What I do remember is Walter on his carriage, drawn by four zebras. On that occasion, he drove the zebras down Piccadilly and into the forecourt of Buckingham Palace.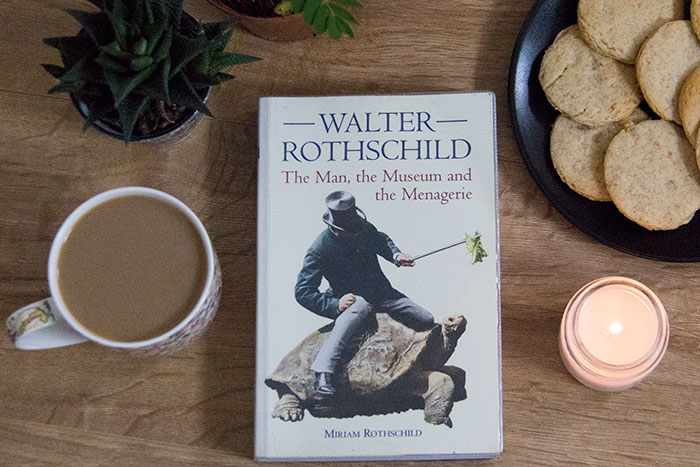 His life at Tring was different. Emma and Natty, his parents, were heavily involved in charity work. They would fund all sorts of projects, from Christian church repairs (they were Jewish) to pay for the passage of a pet lamb to Canada for a poor Jewish family. Walter would be involved too. Along his father, he would give commemorative mugs filled with sweets and a shilling to the children at Tring, on special occasions, like Royal Weddings or birthdays.
Long before NHS, the Rothschilds would have a health service at Tring. For £1 an year, free for employees, they would have free medical care and free nursing in a specially built home. Retirement cottages were made for the employees. The employees could lease an allotment garden. They would receive the money back in a form of gifts at Christmas. Children at Tring received Christmas hampers with food, toys, and a shilling.
As a zoologist, he amassed the largest single accumulation of zoological specimens ever collected by one man. In 1892 he established his own private Museum at Tring. In the book, Miriam talks about Walter's extraordinary life, from politics and finance, and zoology. She mentions his involvement with the Balfour Declaration.
While in his teens, he had at Tring live: kangaroos, zebras, wild horses, a tamed wolf, wild asses, emus, rheas, cassowaries, wild turkeys, a stork, cranes, a dingo with pups, capybara, pangolins, deer, kiwis, a spiny anteater, giant tortoises, a monkey, and some common species of animals. At 21, his father agreed to build a museum for his son as a birthday gift. The house also went through modernization over the years. After they've installed electricity at Tring, the engineers from Snndringham and Blenheim came over to inspect it.
As a student, he went up to Cambridge with a flock of kiwis, it was only one of his many quirks. After the first term, he got a St. Bernard too. When the dog died of old age, Walter said he will not get a new dog and he kept his promise for 38 years, getting a new dog only after his mother's death. Walter also loved books and managed to collect 30,000 scientific books, including a first edition of Newton's Principia.
Sadly he was also a victim of blackmail for many years, by one of his mistresses. That put a terrible financial burden on him and, eventually he had to sell his bird collection.
Even today, half a century after his death, Walter's collection of butterflies is considered as one of the greatest collections made in the world. A dispute took place, regarding a new subspecies of giraffe, which Walter presented, as he financed the expedition that led to its discovery. While the dispute was taking place, the giraffe was named Rothschild.
In 1914 Walter was in Algeria, but returned when the political situation in Europe got worse. His brother was in Hungary in holiday and had to make a swift escape. Walter died of cancer in 1937. On his tombstone is carved: "Ask of the beasts and they will tell thee and the birds of the air shall declare unto thee."
Walter Rothschild by Miriam Rothschild
Details about the picture: –
My rating: 3.5/5 Stars. I only gave it 3.5 stars because Miriam's style is not as fluid as I would have liked. Also, she does talk a bit too much of politics.
Would I recommend it: Yes.
Published by: Anthony Rowe
Year it was published: 2008
Format: Paperback
Genre(s): Non-fiction. Biography
Pages: 385
About the author: Miriam Rothschild is the niece of Walter Rothschild. She was born in Oundle, Northamptonshire, in 1908. She died in 2005.
Website & Social Media Links: –
---
---