The Great Fire of London by Samuel Pepys
If you don't like reading personal diaries, then The Great Fire of London by Samuel Pepys is not the book for you. But, if you do, then is a fascinating recount of an important event in London's history. I was intrigued by the Great Fire of London when I heard about it and I saw some artifacts from the fire, preserved at the Museum of London, when I visited it a few years ago.
I also heard about Samuel Pepys in the documentaries I see on BBC, he does sound like an interesting person. So, a book called The Great Fire of London by Samuel Pepys sounds exactly like something I would be interested in.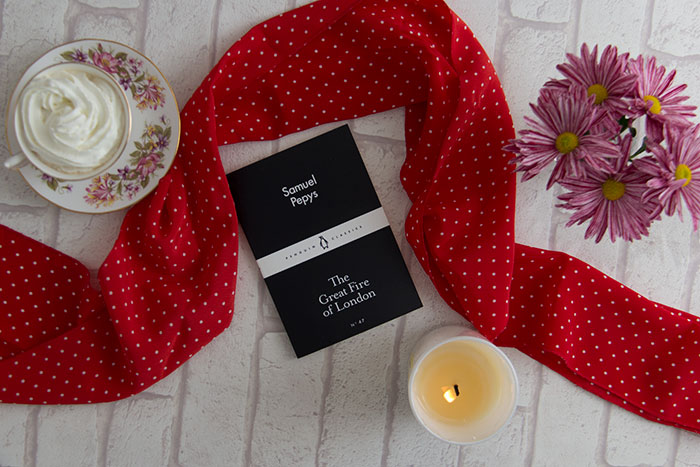 The diary was written in code, for his eyes only. I think this gives a wonderful insight in his personality. He obviously talks about things that interest him and his daily life. At the same time there are glimpses of how much he loved his wife, as he mentions how "fine" she looked in a beautiful dress. His love for his mother is also visible in the way he mentions her. It's quite a wonderful thing to read.
The book has two chapters. First is from 1st May to 30th June 1665. He talks about the Dutch wars and the plaque. It's very interesting to see how casual he can talk about these things. It gives us a better understanding of how people were at that time, much more used to the idea of death as a part of life comparing to how we see death in our modern era.
The second chapter is between 2nd September and 15th September 1666. Everybody was affected by the fire. He talks about how much money were lost in rents with the burned houses. He mentions how much the lives of the people that lived there would be affected. Reading his diary gives a different view, in contrast with the bird eye view we see historical tragedies.
The Great Fire of London by Samuel Pepys
Details about the picture: –
My rating: 5/5 Stars.
Would I recommend it: Yes. It's an important historical primary source.
Published by: Penguin Books
Year it was published: 2015 (the copy I have)
Format: Paperback
Genre(s): Non-fiction. Memoir.
Pages: 51
About the author: Samuel Pepys (pronounced PEEPS) was born on 23rd February 1633 in London. His father, John, was a tailor and his mother Margaret was the sister of a Whitechapel butcher. Samuel was fifth in a line of eleven children.
He went to Huntingdonshire in 1642 to live with his uncle, because of his health and for fears of the plague. Several of his brothers would die from it. Pepys attended the Grammar School there. He returned to London after the Civil War and went to St. Paul's School. Samuel continued his education at Magdalene College Cambridge, graduating in 1654. After that he was employed as a secretary by Edward Montagu. The following year he married Elizabeth, a fifteen year old daughter of an exiled Huguenot.
Samuel wanted to write his diary to remember the things he achieved. Well, like most people that write diaries (or blogs). Mantagu become Earl of Sandwich after the restoration. Pepys ended his diary in May 1669, when he was successful, having a very good career, rich enough to retire. In November 1669 his wife died.
In the 1670s he got advisory roles. He became a member of Parliament, first under King Charles II for 6 years and again under King James II for 2 years. Meanwhile, he was arrested twice, both times the charges were dropped. He died in 1703.
Website & Social Media Links: www.pepysdiary.com and www.pepys.info
---
---