How To: Get Your Website Noticed by Filip Matous
I had no intention of reading How To: Get Your Website Noticed by Filip Matous a few days ago. I was already reading 3 books, all very interesting. My husband was busy with a project, so I've started to go through it, just to see how it is. Soon I was reading page after page, reading almost half of the book in one sitting. It's a very easy read and quite interesting. The book is split in 3 parts, business goals, traffic choices, and measurement and optimization.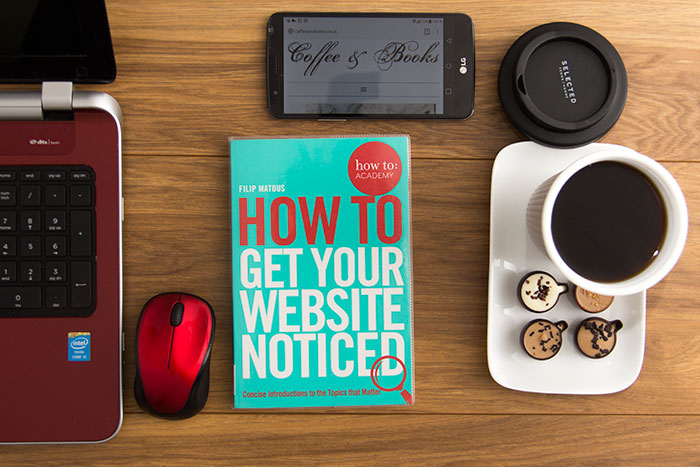 Passionate. When I've read Matous's comments about things you can see on most websites (he talks about the passionate guys), I've started to laugh. If, like me, you are looking on business to business websites, you'll see lots and lots of passionate people. It doesn't even matter in which domain they are operating, all are, according to their websites… passionate. It's boring. I would have rather learned a bit more about the company, something he recommends in the book.
One thing that caught my attention was all traffic costs. It might seem that traffic coming from google is free. But, as he puts it, it's not free if you have to spend a lot of time creating the content. I agree with that. Creating content that is interesting and also optimized for SEO is time consuming. That time means money too. So, sometimes, paying for adds might be a better way to drive traffic.
I found some good ideas in the book and it was also useful for resources. I'm not sure for how long the book is relevant. But, at the same time, it's a short book, that takes only a few hours to read.
How To: Get Your Website Noticed by Filip Matous
Details about the picture: A laptop is useful when you read this book, so you can have a look online, checking the resources he mentions.
My rating: 3.5/5 Stars.
Would I recommend it: Yes. A few good ideas and very easy and fast to read.
Published by: Bluebird; Macmillan
Year it was published: 2016
Format: Paperback
Genre(s): Non-fiction
Pages: 202
About the author: Filip Matous is a digital strategist.
Website & Social Media Links: filipmatous.com
---
---