Hi and Welcome to Coffee & Books.
I always loved reading. My mother used to read a lot of books when I was a child and I saw her. I also liked the librarian I had at primary school. She was warm and gentle, and she too encouraged me to read.
After a while I stopped reading as much, being busy with work, getting married. But, a few years ago, I made a library card and I started borrowing books. When I discovered that I can borrow any book I want from the library, I was amazed and I started reading more. In 2016 I tried a reading challenge that didn't go well, as I had some genres that I wasn't keen on.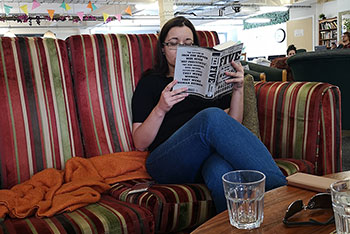 At the end of 2017, when I saw that I've read 60 books, I've decided to start Coffee and Books. I thought that even if I read half of the number of books read in 2017, I would still have plenty of posts to share on my new blog. In the end, I've read a total of 85 books in 2018, check My 2018 in Books and The big book review 2018 Tag.
For 2019 I've started a new challenge. But, from this month, I'm starting reading History at Oxford University, a Foundation Certificate that allows me to study part time for two years, that being equivalent of the first year. This will be my 2nd Undergraduate degree.
As you can see, there are two main categories on my blog: Fiction and Non-Fiction. I thought this is the best way to classify the books that I've read. Both categories have sub-categories, so the books are easier to find, by genre. Of course, History is prominent in both fiction and non-fiction.
To know more about me and the books I enjoy, read the Lost in a Book Tag. If you want to chat on social media, you can find me on twitter and Instagram.